Events
*** Do you have an event you would like to invite your Representative to? Please email: REP52@OhioHouse.gov or call 614-466-8550
If you need to meet personally with Representative Gross, she is in the district for private meetings on Mondays [every week] and Fridays [in special circumstances] every week. She sees patients most weeks on Fridays as she is a practicing nurse practitioner and spends the rest of the week in Columbus serving you.
Please connect with Representative Gross to hear about latest issues in Columbus and to know when she is in your community by signing up for her newsletter at:
Jennifer Gross Newsletter Sign Up | Ohio House of Representatives
Please join Representative Gross at one of her monthly Meet and Greet events. Each month she rotates between Fairfield Twp, Liberty Twp and West Chester Twp. Please come and discuss what is important to you and enjoy a cup of coffee with your Columbus voice.
To be informed of these meet and greet events, please "like" Representative Gross' FB page at:
(4) Jennifer Gross - Ohio House Representative District 52 | Facebook or call 614-466-8550 or email REP52@OhioHouse.gov
Jennifer regularly attends the Butler County Republican Women's Club meetings. This event is welcome to all conservatives whether you are a member or a non member. We hope you might want to join our group of amazing ladies!
Representative Gross attends each township meeting quarterly. Please call her office at 614-466-8550 to see when she will be in your township.
Representative Gross attends each school board meeting quarterly. Please call 614-466-8550 to see when she will join you there next.
Representative Gross has had townhall meeting monthly since taking office. Please join her this month: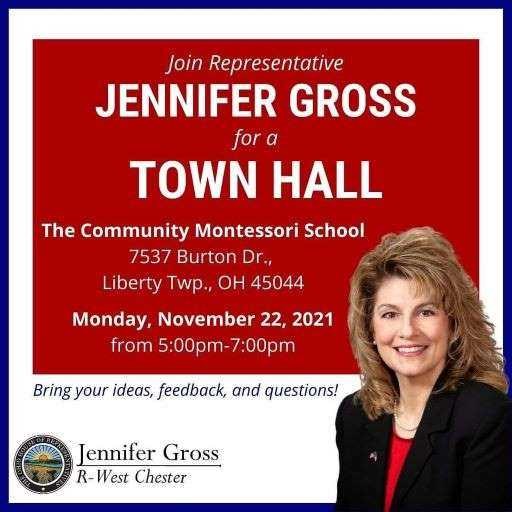 ---
---
---
---
---
---
---
---
---
---
---
---
---
---
---
---
---
---
---
---